1. Don't neglect your headline
The title that you select for your blog post is a key part of driving traffic and interest to your website. If the headline isn't great and doesn't deliver, your content and blog are going to be overlooked.
Clearly you don't want misleading clickbait headlines. You do want to grab the attention of those who may otherwise be mindlessly scrolling through their email or on social media. Consider that an impressive 80% of your followers and readers, or search engine browsers, will see the headline of your blog post. But just 20% of those individuals will take the time to click through and read the content.
So, just how do you create an emotion-evoking headline for your blog? We've got a quick list to help you.
Keep it short and sweet. Titles longer than 62 characters are likely to be chopped off in search engines anyway.
Use numbers and information that offer solutions to problems.
Use words that include ideas, ways, solutions, tips, secrets and so on.
Create headlines that inspire a sense of urgency.
Use words considered to be power words, which could include easy, fast, and now.
2. Create content that blasts away the competition
We hear it all the time. The creation of terrific content is perhaps one of the most important factors in driving both leads and conversions. But there's more to it than just filling up your blog with posts for the sake of something to post. More content does not equate to yours being a better blog.
Your content needs to be relevant, absolutely. But it also needs to be better than similar content that is out there amongst your competitors and others in the industry.
So, just what do you do? How do you ensure that your content stands out amongst others that may be featuring the same topics? The truth is that much of the content on blogs is regurgitated. As an example, a common issue seen amongst dentists is that their blog posts are short. The blogs cover the same topics that their competitors do. There's nothing new or interesting being covered. If you've read one blog post about veneers or dental implants, you've read them all.
To avoid falling into the trap of monotonous and regurgitated content, there are some steps that you can take. Do research into what other industry leaders are writing about. What does their content say? Most importantly, what doesn't their content say?
Provide the content that no one else is delivering. You'll be able to provide authentic and actionable advice that cannot be found elsewhere. The results will likely be beefed up content that is 3 to 4 times as long as those 400 to 500-word pieces found in abundance across the blogosphere.
Quick tips include the following.
Ensuring your blog posts have an easy to look at and read layout
Infusing your content with emotions that can evoke action from your targeted audience
Delivering quality information that is interesting and engaging.
Covering a popular topic this week? Offer your readers a different viewpoint and spin on the topic. Your goal is to pack an incredible amount of value into a blog post of between 1,500 and 2,500 words.
3. Integrate the call to action
The call to action (CTA) is something that we at Azuri Group encourage our clients to feature. The CTA can be placed anywhere within the blog post and on the site itself. We often recommend that our clients include the CTA at the end of web page content. And at the very end of the blog post itself. It does not need to be an overly flowery or elaborate CTA. Simply encourage your readers to follow up with any questions that they may have about the topic you've discussed. "Are you interested in learning more about the tummy tuck procedure? Are you ready to schedule your consultation? Call our clinic today, to get started!" Something as simple as that little blurb can remind your potential clients that you are available to meet their needs. And that you are available to answer the questions that your blog post may have inspired.
You don't even need to put much thought into creating a CTA. Something as quick and easy as a blog subscription form or a "call me back" form can boost conversion rates.
It may sound overly simplified, but you may also be surprised at just how effective the CTA can be. If your content is going to exceed the average length of the blog post, which is around the 400 to 500-word mark, consider naturally integrating the CTA somewhere in the middle of the blog post. This will get your message in front of those who tend to casually scan blog posts versus reading and absorbing the content.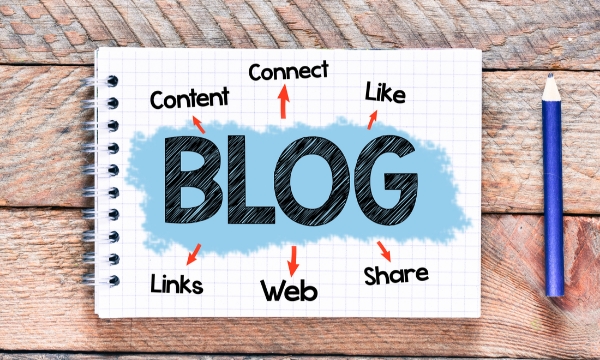 4. Increase time spent on your site
The more time that your audience spends on your website, the more likely they are to convert into clients. But how do you capture the attention of an audience that is often quick to browse away if they lose interest?
Offer easy links to the previous or next posts on your blog.
Integrate internal links within the content of the blog. Keep in mind that internal linking is a positive thing for the website's SEO.
Consider the design of your site. Is it clean? Is it easy to find useful topics? You have a very short window in which to convince readers to stay on your site. Ensuring that the design of your site is simple and free from clutter makes the site easier to look at.
Integrate quality images across the blog posts. Images not only break up the monotony of the paragraphs, but images can offer additional focal points of interest. Your images should be relevant to your blog and to your business.